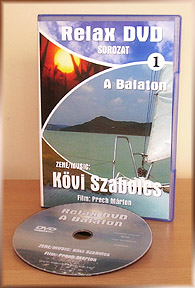 Balaton - Relaxation DVD
Our first disc was released in december 2004.
It contains the best videos about hungarian National Park "Balaton-felvidék":
Tihany, Csopak, Balatonkenese, Badacsony
You can see sunrise, fast moving clouds, birds in morning, view from airplane,
nice flowers, brooks. Musican is Szabolcs Kövi, today he has 12 music albums,
"Balaton" contains the best from them! Watch and hear the sample videos!
Playing time: 40 minute, Audio: PCM Stereo
Extras: english/german/hungarian menu, scene selection,
20 minute screensaver, bibliograph, information from authors.
PICTURES FROM VIDEO: